So first a little history: Because the orange tree can simultaneously produce flowers, fruit, and foliage, these succulent fruits have long been associated with fertility. Although some are grown in California, most blood oranges come from Mediterranean countries (Southern Italy in particular) and are often considered to be among the finest dessert oranges in the world.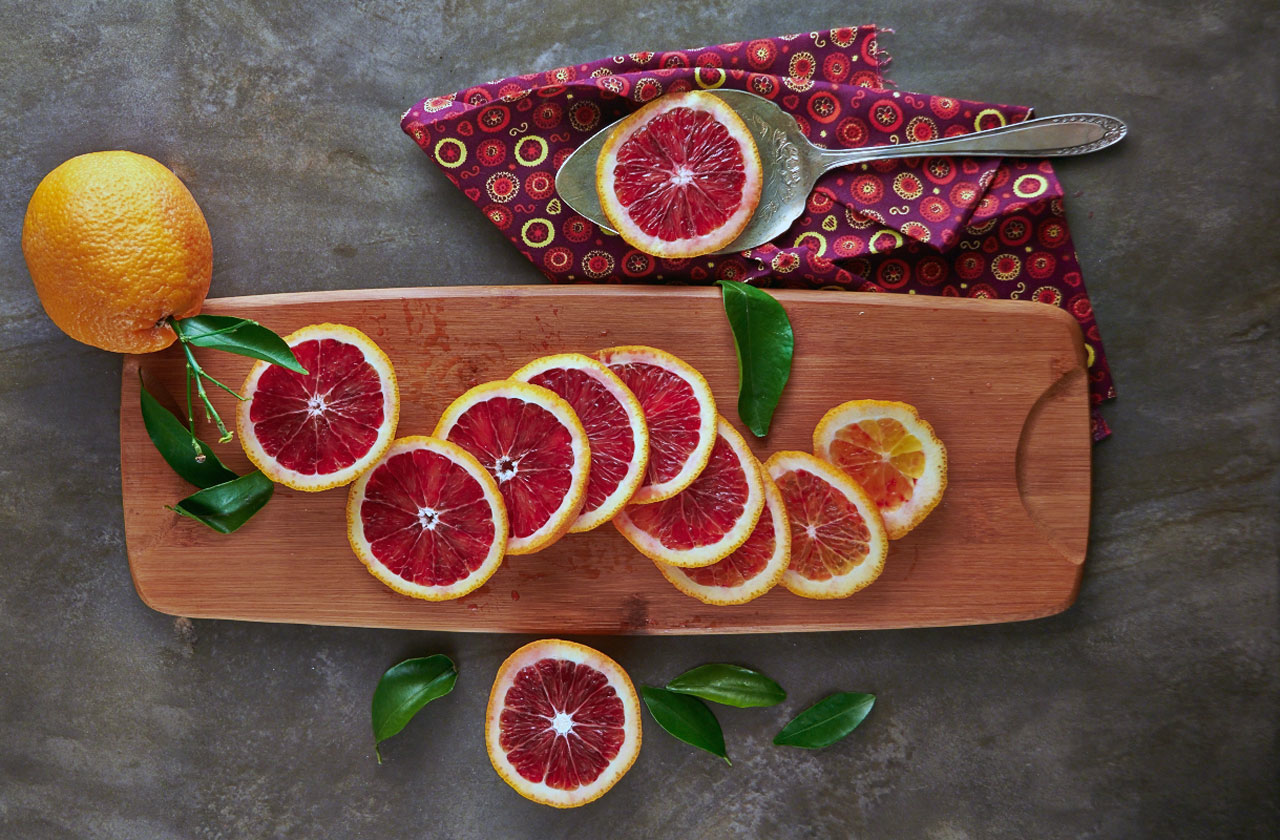 What they look like: They sport a thin, red-blushed orange skin, with flesh that ranges in colour from pink to brilliant red to burgundy; taste-wise, they're tart-sweet and slightly berry-like.
Selection tips:
Pick those that are firm to the touch and heavy for their size. Although bits of green and rough, brownish areas on the skin have no effect on flavour or quality, do avoid any fruits with mould or spongy spots.
Health benefits
: Oranges are rich in antioxidants―vital for healthy cells―including vitamin C, which aids in healing, boosts your immune system, helps your body absorb iron, and even helps reduce the risk of cancer. This citrus fruit is also a good source of fibre, which helps lower cholesterol and, like vitamin C, reduce your cancer risk. (To maximize your fibre intake, be sure to eat some of the spongy white pith right under the skin.)
Nutritional info:
One tasty, medium-sized blood orange will provide you with 70 calories, 3.0 grams of fibre, 1.0 gram of protein, and no fat, sodium, or cholesterol.
And so to the recipes, blood oranges are so versatile, you can use them in sweet or savoury dishes, and with the colour they bring, they brighten up any dish and impress on any occasion:
Blood Orange Tart
200g/7oz sugar, plus extra for dusting
3 blood oranges, juice and zest
1 tsp orange blossom water
2 free-range eggs, plus 6 yolks
200g/7oz butter, cubed
25cm/10in sweetened shortcrust pastry tart shell, blind baked (you can use ready-made)
3 blood oranges, peeled, sliced into rounds
1 tbsp demerara sugar
double cream or custard, to serve
Preheat the oven to 180C/350F/Gas 4.
Whisk the sugar, orange juice and zest, orange blossom water, eggs and egg yolks together in a bowl until well combined.
Add the butter and set over a pan over simmering water. (Do not let the base of the bowl touch the water.)
Cook for 15-20 minutes, stirring regularly, until the butter has melted and the mixture has thickened.
Pour the mixture into the cooked pastry case , cover with clingfilm (to prevent a skin forming) and set aside to cool.
Arrange the orange slices on the cooled tart and sprinkle over the demerara sugar.
Using a cooks' blowtorch, heat the sugar until caramelised.
To serve, slice the tart and serve with double cream or custard.
Blood orange, mozarella and rocket salad
3 blood (or normal) oranges
2 x 125g balls mozzarella, the best you can afford (or burrara, if you can get it), torn
2 big handfuls rocket
½ red onion, thinly sliced
crusty bread, to serve (optional)
For the dressing
3 tbsp olive oil
3 tbsp red wine vinegar
2 tsp caster sugar
2 tsp wholegrain mustard
1 tsp mustard seed (black or brown)
1 tsp poppy seed
Finely zest 1 of the oranges and mix with the dressing ingredients and some seasoning.
Cut the peel from the top and bottom of each orange, then sit each flat on a board. Using a small knife, cut away the peel and pith from each orange, working in downward strokes all the way around. Thinly slice the oranges and scatter over a platter with the mozzarella, rocket and onion.
Drizzle the dressing over the salad and eat with crusty bread, if you like.
Blood Orange, blossom and pomegranate cake
6 blood oranges, 3 whole, juice of 3
250g pack butter, softened
50g clear honey, plus 2 tbsp
300g golden caster sugar
200g self-raising flour
100g ground almonds
1 tsp baking powder
4 large eggs
1 tbsp orange blossom water, plus 1 tsp
140g full-fat Greek yogurt, plus extra to serve
1 small pomegranate, halved
Cover 1 of the whole oranges with water in a saucepan and bring to the boil for a couple of mins. Get rid of the water and start again, this time simmering for 40 mins until the orange is really soft. When cool enough to handle, cut in half and remove all the pips. Can be done 1 day ahead.
Heat oven to 180C/160C fan/gas 4 and grease a 22cm round cake tin with a knob of the butter. Drizzle the 2 tbsp of honey over the base of the tin, then slice the remaining 2 whole oranges and arrange the slices over the honey.
Put the boiled orange in a food processor and whizz to a purée. Beat the softened butter, 200g of the sugar, the 50g honey, the flour, almonds, baking powder, eggs, 1 tbsp orange blossom water and yogurt until smooth. Stir in the puréed orange and scrape into the tin, being careful not to dislodge the fruit. Bake for 55 mins until a skewer poked into the centre comes out clean. Cool the cake for 10 mins in the tin, then turn out onto a serving plate.
Tip the blood orange juice, the remaining sugar and 1 tsp orange blossom water into a saucepan. Bubble for 5 mins until the syrup has thickened slightly. Remove the pomegranate seeds and stir them into the syrup while it cools. Enjoy the cake slightly warm or at room temperature, with spoonfuls of thick Greek yogurt and drizzled with syrup.