If you enjoy a bit of baking, I would highly recommend trying your hand at baking your own bread. not only is it highly therapeutic, and makes your whole house smell wonderful, it is impressive to guests and family, and is better than the bread you buy in supermarkets packed with additives, stabilising agents and chemicals to make it last longer.
Currently bread seems to be a bit of a pariah within what is popular among the dieting community, however you can add in seeds, nuts, dried fruit, milk and cheese to your mix to give it some extra nutritional benefits, but a plain mix alone is a great source of carbohydrates, protein and fibre.
To bake bread, a common misconception is that it is difficult, take hours and you need lots of equipment. All I have at home is a cake tin, weighing scales and a mixing bowl, and I have pulled together some tried and tested recipes for you to try that are easy, need minimal equipment and are pretty fail safe! Here we go...
Malted and seeded bread
I used Doves Organic malted flour in this recipe, and it is so quick to make and full of flavour, I don't think I will ever make another savoury loaf.
400grams malted flour
100grams strong white bread flour
250ml water
10grams dried active yeast
1 teaspoon sugar
3 tablespoons oil
2 teaspoons of salt
1. Add the flours to your mixing bowl, placing salt on one side of the bowl. Mix together the sugar, water and yeast and cover with a tea towel and leave for five minutes. If the yeast is still working well, you should see froth on top of the water. Add to the mixing bowl with the oil and bring together into a dough.
2. Work the dough on a lightly floured surface, kneading by hand for around ten minutes. Pop the dough into a lightly oiled bowl, and cover it with a damp tea towel, allowing the dough to double in size. Don't leave in a drafty or cool place or it will take longer, equally don't leave in too warm of a place or you won't get such a good flavour. It should take around an hour at room temperature.
3. Turn the dough out onto a lightly oiled surface and knead for a further five minutes by hand and shape into your desired shape. If you aren't overly confident to bake it in a free forming shape, pop it in a loaf tin or cake tin so it will develop a nice shape. Cover again and leave to double in size.
4. Pop in a preheated oven at 180 degrees celcius for 35 minutes or until a hollow sound is heard when tapping the bottom. Turn out on a wire rack to cool. Delicious!
Sweet Fruit Buns
These are slightly adapted from a recipe from BBC, great if you bake them in muffin trays that are lightly oiled or in a loaf for breakfasts. Absolutely delicious, and very convenient if you are grabbing one to go!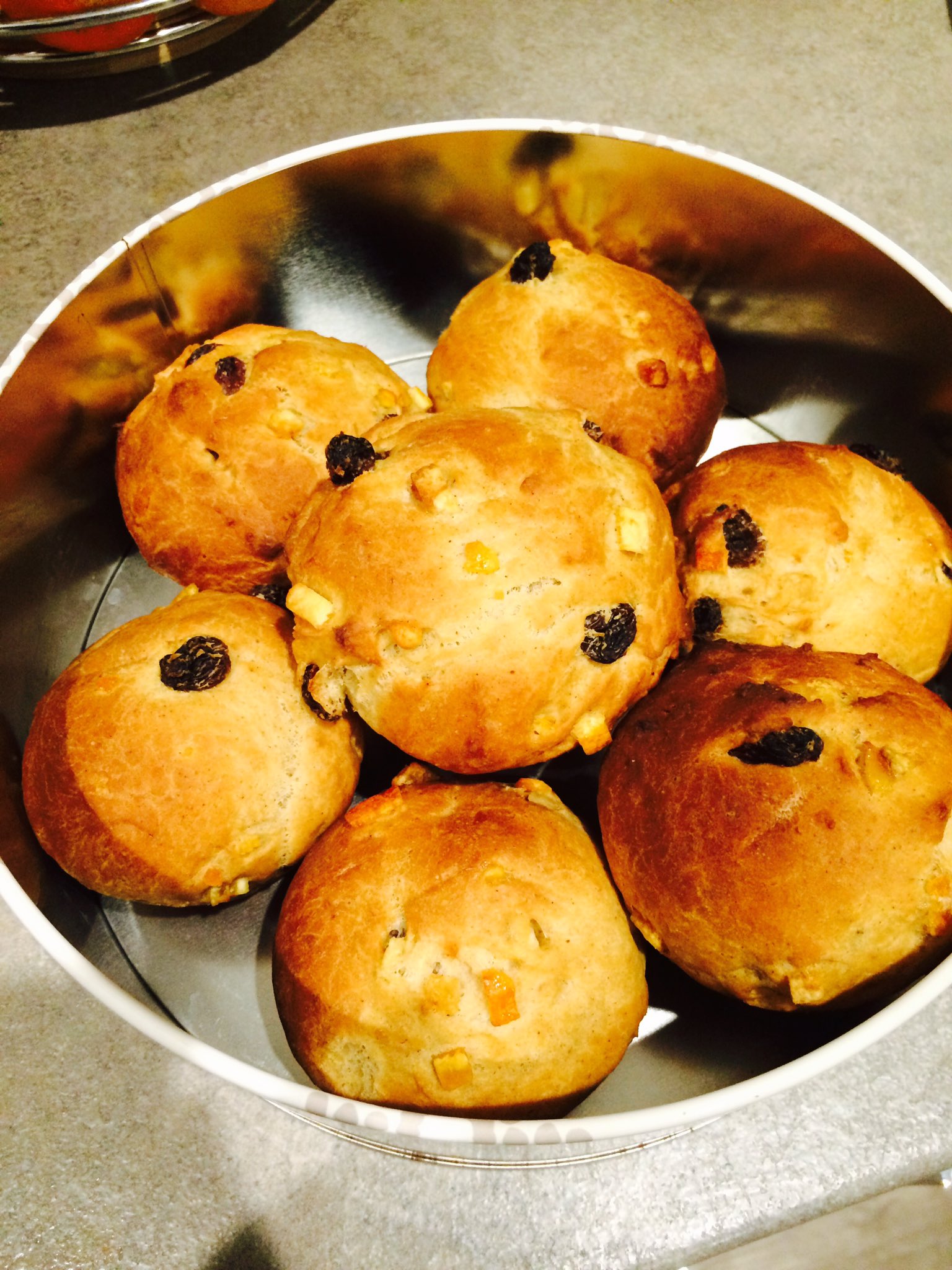 625g/1.3lb strong white flour, plus extra for dusting
1 tsp salt
2 tsp ground mixed spice
2 tsp ground cinnamon
45g/1.5 oz unsalted butter, cut into cubes, plus extra for greasing
85g/3oz sugar
1 lemon, zest only
1½ tsp fast-action yeast
1 free-range egg
275ml/10fl oz tepid milk
125g/4oz mixed dried fruit - I sued sultanas and mixed peel
1. For the buns, sieve the flour, salt and ground mixed spice into a large mixing bowl, then rub in the butter using your fingertips. Make a well in the centre of the mixture, then add the sugar and lemon zest and yeast.
2. Beat the egg and add to the flour with the tepid milk. Mix together to a form a soft, pliable dough.
3. Turn out the dough onto a lightly floured work surface. Carefully work the mixed dried fruit into the dough until well combined. Knead lightly for 5 minutes, or until smooth and elastic.
4. Grease a large, warm mixing bowl with butter. Shape the dough into a ball and place it into the prepared bowl, then cover with a clean tea towel and set aside in a warm place for one hour to prove.
5. Turn out the proved dough onto a lightly floured work surface and knock back the dough. Shape it into a ball again and return it to the bowl, then cover again with the tea towel and set aside for a further 30 minutes to rise.
6. Turn out the dough onto a lightly floured work surface and divide it into 12 equal pieces. Roll each piece into a ball, then flatten slightly into a bun shape using the palms of your hands. Cover the buns again with the tea towel and set aside to rest for 5-10 minutes.
7. Grease a baking tray with butter and transfer the buns to the tray. Wrap the tray with the buns on it loosely in greaseproof paper, then place inside a large polythene bag. Tie the end of the bag tightly so that no air can get in and set aside in a warm place for a further 40 minutes to rise.
8. Preheat the oven to 240C/475F/Gas 8 and bake for 15-20 minutes.
Red Onion and Rosemary Foccacia
This recipe is fabulous for picnics and warmer weather, and you can swop the red onion and rosemary for dried apricots and stilton, or mozzarella and pancetta.
1 batch white bread dough
2 large red onion, sliced
2. When the dough has risen, knock it back and stretch it to fit an oiled Swiss roll tin about 25 x 35cm. Leave the dough to prove for about 20 mins.
3. Heat oven to 200C/fan 180C/gas 6. Spread the onions over the dough and scatter with the rosemary. Press your fingers into the dough to make dimples, drizzle the remaining oil over and scatter over the salt, then bake for 30 mins until golden. Leave to cool, then serve cut or torn into squares.
Enjoy! Please don't hesitate to ask for any other bread recipes, tear and share loaves, or free from loaves or spelt loaves - anything you can think of!