Wild mushrooms are in season this October; this means they are at their most abundant and flavourful this time of year. In 2008, the Daily Mail hailed them as being the next super food, this being backed by dietitian Dr Sarah Schenker, after handfuls of studies carried out showed mushrooms contained cancer reducing properties.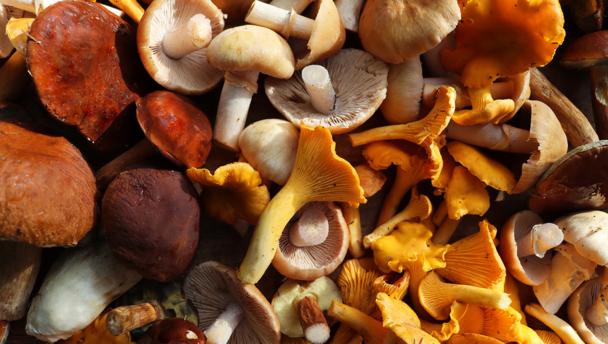 So to convince you all to start adding them to your weekly shopping list, I will be giving you some top reasons why to pop them in your basket, and some great easy recipes for you to try at home. They are both very basic, but delicious, so interpret and tweak them to your own tastes. I have added some serving suggestions, but any feedback on your creations, please comment below and pass on your expertise!
The humble button mushroom – Studies carried out at Pennsylvania State University showed that a handful of white button mushroom contain 12 times more of the antioxidant L-Ergothioneine than wheat germ, previously presumed to be the best source, thus lowering risk of some cancers, by protecting DNA from free radical damage in the body

The shitake – the active antiviral compound lentinan is present in these fancier mushrooms which boost the immune system. They also add great flavours to dishes too!

The maitake – this mushroom has shown in some studies to have tumour reducing affects

The tree ear mushroom – also known as the wood ear mushroom, even in small amounts has been shown to have blood thinning effects, lowering the risk of heart disease and strokes.
Mushrooms are also excellent sources of fibre, needed for healthy and regular bowel movements. Ample daily intake of fibre can reduce risks of bowel cancer

Rich in a variety of B vitamins – these are involved in cell production, nerve function, and the metabolism of carbohydrates, fats, amino acids and alcohol

Significant selenium content – selenium is essential in reproduction, thyroid hormone metabolism, DNA synthesis and protection from oxidative damage and infection

High water content, low calorie content making mushrooms a great veggie for bulking up stews and casseroles, plus they count towards as one of your five a day!
Funghi Trifolati – Don't be put off by the name, this is just like the mushroom topped bruschetta you'd find in Pizza Express or any Italian restaurant, and is a great way to use up left over bread that you don't want to throw away. It is also great served with poached eggs and a fresh tomato salsa if you want to serve it as a meal.
55g dried porcini mushrooms
2 cloves of garlic
75ml olive oil
Salt and pepper
Fresh parsley
1 day old French baguette, toasted
Soak the dried porcini mushrooms for an hour, in a large frying pan sauté the garlic in the olive oil for two minutes.

Slice the chestnut mushrooms and add to pan and sauté for 3 to 4 minutes. Add in the dried mushrooms with some of the water they were soaked in, poured through kitchen towel.

Cover and simmer for about ten minutes until reduced, sprinkle with chopped parsley and serve on the toasted bread.

Add in cream or parmesan for a richer flavour, and season to taste. Delicious!
Creamy Mushroom Stroganoff
– this recipe is really easy, make sure to read it through first before starting. It's a real crowd pleaser and a great comfort food dish on a cold evening. This is the vegetarian option, but you can add in sliced beef if you like.
2tbsp olive oil
1 onion, sliced
2 cloves garlic, finely chopped
3 celery sticks, chopped
1tsp paprika
500g chestnut mushrooms, sliced
150g baby button mushrooms
150ml white wine or cider
200g tub crème fraîche
2tbsp chopped fresh parsley
1tbsp chopped fresh chives
Salt and freshly ground black pepper
Heat the butter and oil in a frying pan, and cook the onion, garlic and celery for two to three minutes until soft. Add in the paprika and cook for 1 minute

Add in the mushrooms and white wine or cider, and bring to boil, then reduce the heat slightly and cook for four to five minutes.

Stir in the crème fraiche and half of the herbs and season to taste. Serve with rice, pasta or veggies with the rest of the herbs sprinkled on top.
I have to warn, after undertaking a foraging course last weekend that inspired this blog post, and learning more about edible mushrooms and fungi, do please check with a professional before eating anything you do find in the garden, as some can be quite toxic and even fatal. So check first!
Please follow my blog, and comment below, perhaps with recipes you love, or links to ones online you've tried before and had success with. Thanks!
http://www.dailymail.co.uk/health/article-1078718/Why-humble-mushroom-hailed-superfood.html